JustRite Gazebo's Are The Right Way To Go!
DIY kits on our website are easy to install, have great functionality and live up to the high standards that we promise at JustRite. They are designed to provide years of quality shade and protection. The aluminium structures are sturdy, resistant to rust and include simple assembly instructions for anyone.
Gazebos are often hexagonal or octagonal shaped structures with a closed roof and open sides a shown in the image below. They are a perfect focal point in your backyard for modern appeal and even entertainment.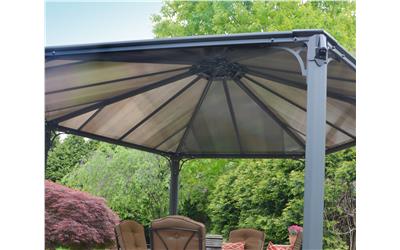 Our Gazebos come in many sizes and range from $1500-$2500 depending on exactly what your home desires! One of our larger gazebos which has a coverage of 18.49m is only just over $2000, not only price matched with any other DIY kits, but promised even better quality! Take it from our customers Australia-wide who have taken time to write such a positive reviews on our website HERE!  
Another great product on our website is the multiple carports we sell. One of our most popular carports is the 5.02m x 3.62m x 2.42m for only A$2,624.00 AUD, compared to our competitors who are selling 4m carports for $3200; JustRite has you covered, with both quality and price.
Conclusion
Building structures like this may require approval so make sure to check with your local council before you begin purchasing these products!
To get the best use out of your structure, surf our online website and take into consideration what will work the best in your home.
Call us on 02 6280 5300 or email any inquiries to [email protected]