Are you from Australia? Sydney, Melbourne, Canberra?
Are you looking for a skylight for your home?
You've come to the right place!
Velux has more than 75 years of experience and is world class quality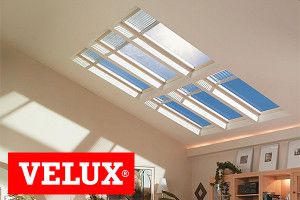 Before starting, it is important to consider that there are different types of skylights, all based upon personal preference. Opening skylights are mechanical and can be opened up, whereas, ventilated skylights are fixed in one stable position. Both skylights are great for your space and should not be only be used in common areas like kitchens and bedrooms. Most owners underestimate the mood that natural sunlight can bring into a neglected area. It uniquely accessories small rooms that don't have exceptional sun access.
Sky lights not only provide natural light to a house to reduce energy bills but are extremely affordable. They are ecofriendly and improve air quality as well as not exposing the interior of your house to neighbors like regular windows tend to do.
They allow beautiful natural light to enter your home and are very durable/secure, especially when pairing the strength of Velux with our professional installers at JustRite!
They are great to take control of your temperature as they allow cool air to circulate freely once drawn inside, and forces the hot air to rise and escape.
Types of Skylights
On our website there are three different types of skylights.
1.      Velux "Fixed" skylight: suitable for increasing the light in any room while also providing an economical alternative for expanding light.
2.      Velux "Manual" skylight: offers natural ventilation through the manual opening hinge, as well as including a pre-included fly screen which keeps all insects out, providing free flow air and light.
3.      Velux "Electric" skylight: provides all you could ask for with natural light as well as an extra convenience of rain sensors and a remote control!
Final words
Skylights are for sale at our out store right HERE! Or for our locals they can be installed  from our consultants in Canberra.
If you are looking for more information about costs of our skylights, take a look at our BLOG published in March!
Call us on 02 6280 5300 or email any inquiries to inf[email protected]